7 Actionable Social Media Tips For Your Business
Date:
Tuesday, September 5, 2017
Location:
Marina Inn Hotel--South Sioux City, NE
Speaker:
Beth Trejo, President and Founder of Chatterkick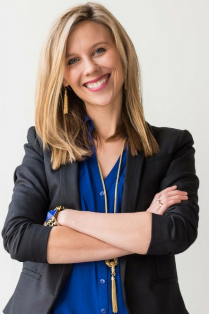 11:45 am Social
12:00pm Lunch
12:10pm Business/Announcements
12:15pm Presentation
1:15pm Conclusion
DESCRIPTION:
Does your personal brand help or hurt your business? We all have to have the technical expertise, but how do showcase that you have it? How do you attract clients? Beth's program will include tips for building clout, crafting profile descriptions, reviews and endorsements, and more.
About the Speaker:
Beth Trejo is Chatterkick's President and Founder, and she loves what she does.
A Sioux City native, Beth attended Coe College in Cedar Rapids, Iowa before returning to her hometown ready to take on the interwebs with big ideas and a strong team. Chatterkick was born from the concept that it is the not the size of the firm that matters, it is the potency; to be the clear bell in a noisy world. Chatterkick accomplishes this with a fearlessly creative spirit, compelling content, and expert understanding of the data that drives, serves, and creates human interactions.
Beth wanted to create a social media firm that seamlessly integrated with each client's unique voice and goals. This dedication established a creative way to talk to their customers, and also a way to listen, engage, recruit, and inform. With Chatterkick as a business partner, companies can use social media both a marketing tool and a resource, one that, when properly wielded, enhances and grows customer relationships (otherwise known as the bottom line).
"I love that we've reached the digital age when companies no longer question the 'why' of social media but keep pushing the envelope toward the infinite answers of 'why not.'"
Beth is active in the local community and is currently serving on the executive board of directors for the Siouxland Chamber of Commerce. She supports several local committees and boards. Her past life includes service with the American Red Cross, where she handled media relations with national media outlets such as "The Today Show, CNN, Telemundo, ABC Evening News and has appeared on "CBS This Morning," Public Radio International, and the BBC.
Related Link(s):