Succeeding In Business Markets: Business Continuation (Buy-Sell, Etc.)
Date:
Tuesday, May 7, 2019
Location:
Delta Hotel-Marriot- 385 East 4th Street, South Sioux City, Nebraska 68776
Speaker:
Michael W. Halloran, CFP®, AEP® (Distinguished), ChFC®, CLU®, RICP®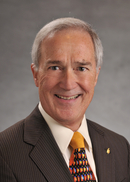 11:45 a.m. Networking
12:00 p.m. Lunch
12:10 p.m. Business/Announcements
12:15 p.m. Presentation
1:15 p.m. Conclusion
Description: An overview of strategies for business succession planning in estate planning.
About the Speaker:
Michael W. Halloran is a wealth management advisor with Northwestern Mutual Investment Services LLC and is an Estate Strategies Group Advisor and a member of Northwestern Mutual' s Estate Business Planning specialist study group; he has been in the financial services industry for over 40 years. Mike carries securities registrations 1, 8, 63, and 65 and, along with his team, has a vibrant practice managing over $225 million of client assets. A graduate of Florida State University and The American College, his approach to financial planning involves analyzing, planning, and implementing customized strategies and while he remains committed to providing comprehensive, integrated financial plans that reflect the clients' values and support their lifelong goals, his true passion lies within estate and business planning for individuals and businesses. Mike has received several industry awards and has been featured in national publications including National Underwriter, Capital Executive, New York University Review, Money, Life Association News, Life Insurance Selling, USA TODAY, New York Times, Chicago Tribune, Congressional Quarterly, and Dow Jones News, and speaks regularly throughout the United States on a variety of topics. He was inducted into the NAEPC Estate Planning Hall of Fame® in November 2015 and was honored with the Accredited Estate Planner® (Distinguished) designation at that time. Mike taught at the University of North Florida for 14 years. He is a past president of NAEPC, the Estate Planning Council of Northeast Florida, and the Jacksonville Association of Insurance and Financial Advisors, has served as a national director of the Society of Financial Service Professionals, and is a past member of the board of directors of the Florida Association of Insurance and Financial Advisors. He currently serves Physicians Nationwide as its executive director and is involved on various other community organizations. In his spare time, Mike enjoys running, public speaking, and going to Disney theme parks with his wife Sue.
Related Link(s):