Iowa District Court Judge's Panel
Date:
Tuesday, November 5, 2019
Location:
Delta Hotel-Marriot- 385 East 4th Street, South Sioux City, Nebraska 68776
Speaker:
Honorable Steven J. Andreason; Honorable Tod J. Deck; Honorable Patrick H. Tott
11:45 a.m. Networking
12:00 p.m. Lunch
12:10 p.m. Business/Announcements
12:15 p.m. Presentation
1:15 p.m. Conclusion
Description: Join us for unique event, where we have the opportunity to hear first hand about the ins and outs of the court system from a panel of Iowa judges; in addition, the judges will be addressing some questions sent in by our members.
If you have a question you would like to pose, please email Anthony Lamb at lamb@klasslaw.com no later than 10/31/19, some limitation on responses will be expected.
Speakers:
Honorable Steven J. Andreason

Judge Andreasen was appointed as a district judge in January 2008. He had served as a magistrate in Woodbury County in 2006 and 2007 before his appointment to the bench. He received his undergraduate degree from the University of Iowa in 1989 and his law degree from the same institution in 1992. Judge Andreasen was in private practice in Sioux City since 1992. He is a member of the Iowa State and Woodbury County Bar Associations and the Iowa Judges Association. He is married with one child.
Honorable Tod J. Deck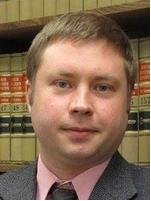 Began service as a Woodbury County Magistrate on November 3, 2014. He was appointed District Court Judge in 2017. He was born and raised in Sioux City, Iowa. He attended West High School in Sioux City and graduated magna cum laude from Morningside College in Sioux City in 2013 with a B.A. in American History. He attended Brandeis School of Law at the University of Louisville and graduated with a degree of Juris Doctor in 2006. Magistrate Deck became a member of the Iowa State Bar Association in 2006 and is a partner at Deck law, LLP. He was admitted to the United States District Court for the Northern District of Iowa in 2007 and the United States Court of Appeals for the Eighth Circuit in 2009.
Honorable Patrick H. Tott

Judge Tott was appointed to the bench in September, 2014. He graduated Cum Laude from Creighton University with a Bachelor of Science Degree in Business Administration in 1989 and Magna Cum Laude from Creighton Law School in 1991. Judge Tott served as a part-time Associate Juvenile Judge from 1994 to 2001 and as a part-time magistrate for Woodbury County from 1999 until his appointment to the District Court in September, 2014. Immediately prior to his appointment to the bench, Judge Tott was a member of the firm of Buckmeier & Daane Lawyers P.C. in Sioux City. He is married with seven children.