Veteran's Affairs
Date:
Tuesday, November 3, 2020
Location:
Delta Hotel-Marriot-385 East 4th Street, South Sioux City, Nebraska 68776
Speaker:
Joseph E. Twidwell, Senior VP & Trust Officer, Security National Bank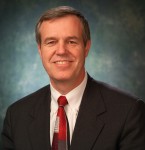 11:45 a.m. Networking
12:00 p.m. Lunch
12:10 p.m. Business/Announcement
12:15 p.m. Presentation
1:15 p.m. Conclusion
Description: Veteran's Affairs
Joe was born in Minneapolis Minnesota, has a B.A. and J.D. from Creighton University. Joe was a JAGC prosecutor as well as engaging in civil litigation, estate planning and tax work while in private practice Joe has spent most of his career as the senior officer of two trust companies including Security National Bank of Sioux City, Iowa where he has been since December 2001.
Joe served in the Army on active duty, the National Guard and Army Reserves for 28 years retiring as a lieutenant colonel. He has taught as adjunct faculty at Midland College and have been very involved in variety of charitable organizations dealing with domestic violence prevention, care for the hungry and homeless, and various youth activities
Joe is married to Diana and have three children: Jeremy, Jon and Jennifer, and nine grandchildren. Diana and Joe are very active in the Catholic Church where he is a deacon and Diana is director of music for the parish.