Embracing Donors with Donor Advised Funds
Date:
Tuesday, February 6, 2024
Location:
South Sioux City Marriott Riverfront
Speaker:
Donna Frederick, Executive Director, Stifel Charitable Inc.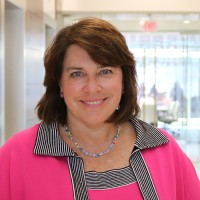 Itinerary
11:45 a.m. Networking
12:00 p.m. Lunch
12:25 p.m. Business/Announcements
12:30 p.m. Presentation
1:15 p.m. Conclusion
About the Speaker
Donna is the Executive Director, Stifel Charitable Inc. and the Senior Vice President, Donor-Advised Funds at Stifel Trust Company.
Donna joined Stifel Trust Company in 2019 with the challenge of building a Stifel Charitable Gift Fund Program. Stifel Charitable Inc. received its IRS determination of public charity status in October 2019. By Developing policies and procedures, sourcing vendors, and creating a strong marketing plan, Donna rolled out a pilot a month later. Growing rapidly the program exceeded $200 million in gifts by the end of 2022.
Prior to joining Stifel Trust, Donna served as a Giving Strategist with the St. Louis Community Foundation. In this role, she gained ample experience in donor-advised philanthropy and was responsible for educating financial, tax, and legal advisors about the value of including charitable giving as part of their clients' financial plan.
Donna's operations and regulatory knowledge was developed during her 23 years with Smith Moore, a St. Louis-based investment firm, where she served as the company's Chief Operating Officer, Director, and Equity Partner.
In addition to her professional duties, Donna is active in industry and community affairs. She is currently a board President of AgeSmart Community Resources, Ten by Three, and the Immaculate Conception School, where she also served as a founding member of the Immaculate Conception Parish Planned Giving Committee. Previously, she served on the board of the St. Louis Council of Charitable Gift Planners for eight years, was president for two years, and awarded the Founder's Award in 2019.